(Reprinted from WonderSpirit Life Wisdom Newsletter, Fall 1999.)
Personal Passages
There are events, changes and passages that occur in every life, which are beyond human ability to fully comprehend.  From birth to death, life is full of such mysterious passages.  Some are personal; some are social, some cultural and some global…..  Human beings relate to life's mysteries best and first through the language of symbols.  We affirm our commitment to another person through the symbolic exchange of rings.  Lighting a candle helps us to remember someone who has passed.  Through our relationships to symbols we make something coherent and meaningful of our lives.  By manipulating and interacting with symbols in a highly specific manner in a particular time and place, we act to accept, affirm release, bind ourselves to, or alter a particular reality through our symbolic interaction with it.  The context in which we do these things is a ritual. –  Wendy Hunter Roberts
This time of year, more than any other for me, is full of remembrances, rituals and celebrations.  The "season" begins in mid-October with the anniversary of my father's passing, continues with All Hallows Eve, Thanksgiving, the Winter Solstice and then Christmas and the new year.
These personal remembrances and rituals are as simple as creating a reflective environment with scented candles, music and visual reminders–like a photograph in the case of my dad (an now my sister), and the fall leaves and pine cones gathered on my walks to decorate the dining room table.  Oftentimes a good book or dance are added.
And then there are the celebrations we share with others.  Thanksgiving and Christmas are times of reunion with family and friends, and a reminder how blessed I am to gather at these times with those I love and have learned so much from.  No longer is it a given that all of us will gather again next year.
I expect to pass this way but once.  If there be any good thing I can do or any kindness I can show, let me do it now.  For I shall not pass this way again.  (Author Unknown – from a card my grandmother gave me once)
I'm a child of the earth, a farmer's daughter.  Nature and the changing seasons lend their imagery readily.  I'm a student of religious studies and know that the earth-based celebration of Winter Solstice, the returning of the light (the sun), fits well with the celebration of the new light (the birth of a child who would love and be loved by many) of the Christian tradition.  Their placement in close proximity was no accident.
And then there's the new year.  In Pagan traditions, All Hallows Eve is the end of one year and November1 begins the new year.   In the Christian tradition, Advent, starting around mid-October, begins the new year.  As Americans, though, for most of us it's still December 31, New Year's Eve, when we look back at our year and make new choices for the year ahead.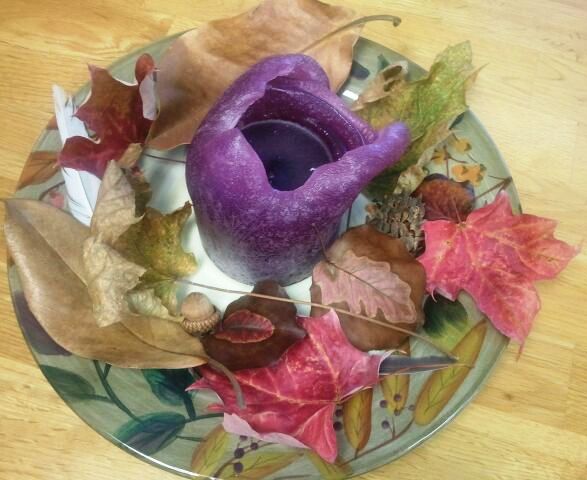 Then again, maybe it's this whole cluster of events that serves the same purpose: a time to remember, a time to be grateful and give thanks, and finally a time to let go and begin again.  Regardless of heritage, our spirits know that this is hallowed time.
Be blessed and blessing – Anne