Join me for Wellness Wednesdays in Wauwatosa for some mind-body-spirit higher-level and deeper-wisdom wellness classes.  There will be four of us offering classes each week:
Playing with Oils with Kim Hall
High-Level Wellness with Anne Wondra (me!)
Mindfulness and Meditation with Margaret Stoiber
Yoga with Leisa Jean*
Wellness Wednesdays begin Wednesday, July 20, 10 am – 2 pm, at Unity Church in Milwaukee… a perfect setting for these experiences.  There's a labyrinth room for personal wisdom and reflective walks here also.
In my High-Level Wellness segment of these Wednesdays, I'll begin with an introduction to High-Level Wellness.  (Culturally, we are so not conditioned this way…It's a different language and focus. ) In following weeks, I'll offer 'one-sheet workshops' and resources on specific art-and-soul, joyous-life-living, wisdom-and-wellness topics.  Here's my schedule so far.
Whole-Person, High-Level Wellness Roots
BEFORE I knew about corporate Wellness Programs, an Iceberg Model, Human Resource management, or Life Coaching, I was a parish youth minister, encompassing total well-being in all facets of one's life.  These are my whole-person wellness beginnings.  Notice, I used a TREE — Nature has always been my spiritual teacher…Her lessons always applied equally to everyone, regardless of religion, eye color, ethnicity, neighborhood, work, or whatever.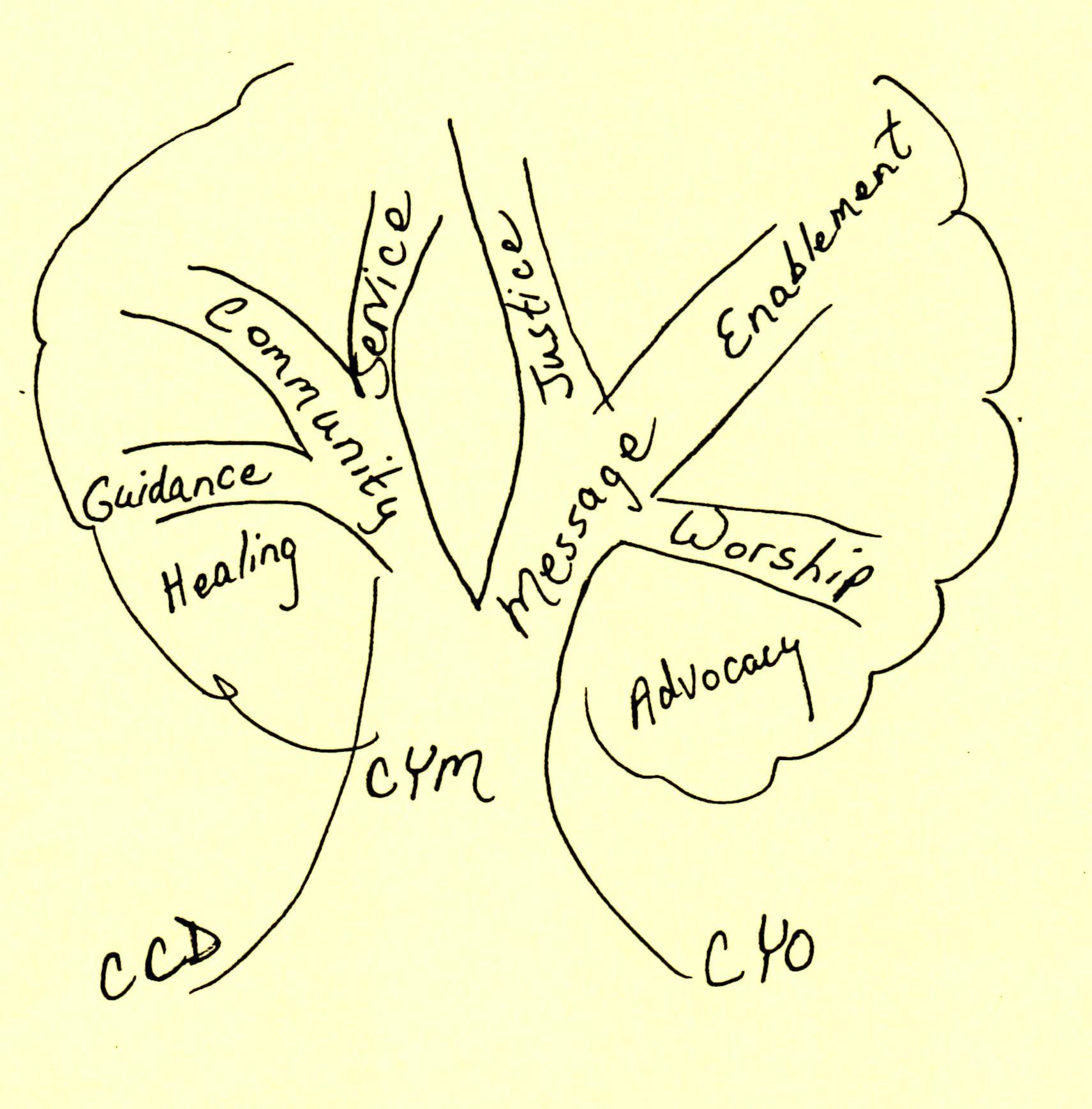 and then there's all the came before and after.  I'm playing with all of it here, and invite you to play too!  … Wednesdays in Wauwatosa, or privately.
CHANGING and Growing and LIFE are Spiritual, deeply Personal, and Self-refining.
Welcome to Wellness Wednesdays.  I hope you can make it!  All of the women involved in these mornings will feed your mind, body, and spirit.  Tap in.
* Janet Golownia will join us in September.  In the meantime, Leisa Jean will lead our Wednesday Yoga sessions.  Leisa Jean has been in the health field for over a quarter century in France.  Creator, writer, publisher and promoter of a yoga-Pilates book aimed at REAL women with no time to exercise, Leisa loves giving classes and advice world-wide.