Trends I'm feeling and noticing: simplifying and shorter attention spans.
And 'earthing.'  Taking sabbaticals; releasing what's not authentic or isn't us anymore– like scripted sales pitches and formula product launch processes that sound like everyone else.  We're radar-sensitized to–and ignore–pages, programs, and ads full of hype jargon–with lots of words that say nothing of substance.
It's refreshing when one who speaks her truth plainly, simply, authentically in her own words.
We're tired of teasers and fine print–whether it's news, weather, or shopping.  We're turning those channels off.
And like Mom's Monopoly Game of my childhood, Mom changed the rules, and we played differently — because She got the real message of playing.  And I learned to play life differently too.
There's so much noise, and our spirits are increasingly more-sensitive; we are drawing inward.  We're turning-off and tuning-it-out to re-center, re-find, and feed our souls.  We're taking real time to be with real people who matter to us.
This 'earthing' comes out of catalysts that call us to our core as human beings, as divine inspired beings, in a fast-changing physical world.  Re-finding and redefining ourselves is the sacred soul work of living this life.
I don't want to miss my life. (Sylvia)
We're right on schedule–our own.  Our souls are awakening…shaken to consciousness by whatever interrupted our sleep; and it's exactly the right time.
The Universe does things for us, not to us.
---
Earthing Centering Sabbatical Soul-awakening time
I am in this too; maybe a little ahead of you.  So I can be here for you and offer these Wonderful-Life casual coaching self-help support services to assist, focus, and witness transforming with you, be a light-holder.  There are 1-month guided packages also.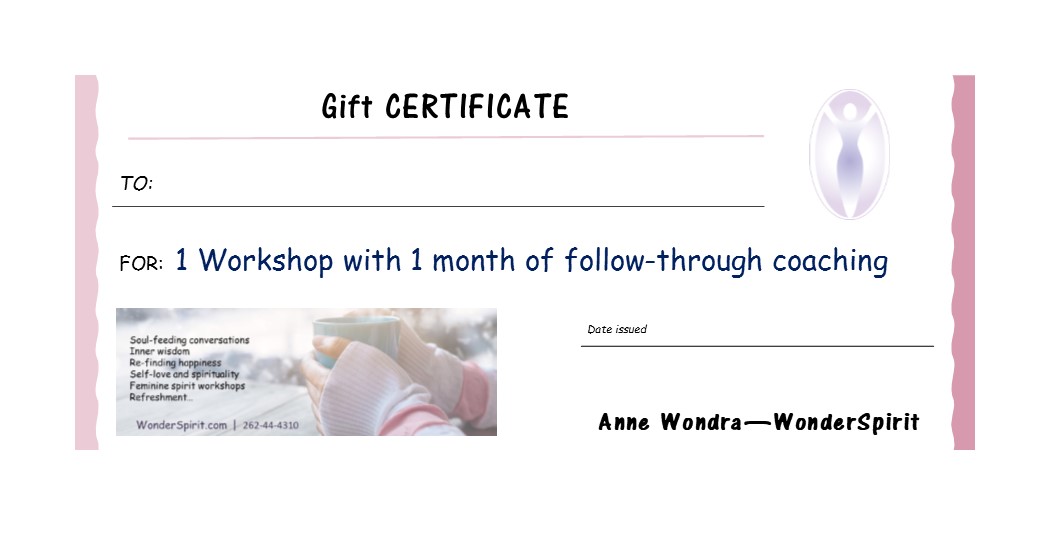 Short, personal, spirit-breathing one-month coaching programs.  These are areas I can assist and inspire you in.  I have resources to share and a light to shine on the road we're traveling together.
---
I use 3 Rules:
Keep it Simple and Sensible (KISS)
Make it EASY (Energizes And Satisfies You)
Set yourself up for success.  (Keep your light shining.)
---
2017 Spiritual Expansions
Soul awakenings, awareness, consciousness, humanity's evolving.
This is Nature's process. Every experience changes us, and requires changes of us, in how we walk this earth and live.
When we're in sync with our soul, we feel alive, connected, creative,  curious, lighter, want to know more, notice and appreciate help beyond us along the way, have a knowing that we will be okay, and that we're not in this alone.
This is God and Goddess work we're up to, you and I.  So keep on…  (The Journey)
What does your spirit need?  I hope my Wonderful-Life services or a  1-month workshop package is exactly the casual support you'd love.  It would be my pleasure.
Blessings and much love.  – Anne