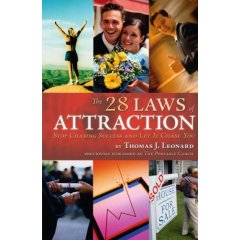 Ever come across a book where the cover doesn't match or do justice to what's in it?  This is one of those.  And 28 Laws of Attraction by Thomas Leonard is a hidden treasure because of it.
Thomas Leonard was a financial planner by trade….at least, initially. Two things expanded that: First, he started to receive requests from clients on matters that were much broader than financial planning. Second, he didn't like 'selling.' So he started observing the behaviors and attributes that ATTRACTED people to work with someone, hire someone, buy something, or just want to be around them. Out of that came his 28 Principles of Attraction list…which became one of his only books published for consumers, originally called The Portable Coach, and later reprinted as The 28 Laws of Attraction.
To coaches across the world, Thomas Leonard is regarded as perhaps the 'founder' of the personal coaching industry. He was a man of insight and vision. His work and wisdom is deceptively simple and amazingly deep.
A Success Series for Personal-services Professionals … soon
I'd like to open a Monthly Success Series for personal services entrepreneurs and professionals using 28 Laws of Attraction.  Thomas was about evolving from within, doing things differently, growing oneself and doing business with integrity and authenticity…the things  that make us attractive.  If you're interested in a monthly motivator like this, let me know.  Learn more here.  In the meantime, take a look a good book with a bad cover…. and enjoy.