Last Week's first Wellness Wednesday in Wauwatosa was awesome:  Four fabulous women leading four fabulous classes!  These are not your loud, fitness-center classes with lots of machines; these are soft-spoken introvert-friendly sessions to feed your spirit, mind, and energy.
Last week I introduced high-level wellness (and low-level wellness), and offered resources (and pictures!) to help us understand that total wellness and well-being mindset of growing and becoming all we came here to be, to live this life joyously engaged.  Maslow called it 'Self-Actualization.'  Einstein, Socrates, Louise Hay, Abraham-Hicks, Christiane Northrup, M.D., and so many other teachers have written of this. High-level Wellness is growing our greatness / wings / light / brilliance / joy –in every area of this Life we are living.
That's incredibly exciting…that we have tools and knowledge and access to create and influence how we feel and live! And that was just last week!   If you missed it,  I offer personal courses and classes and you can start joining us on Wednesdays.
This coming Wednesday, July 27, my High-Level Wellness topic is Relationship Rules. Kim will again be offering a 'Playing with Oils' class; Margaret will be leading a mid-day meditation; followed by Leisa Jean with yoga or Pilates.  Hope you can make it.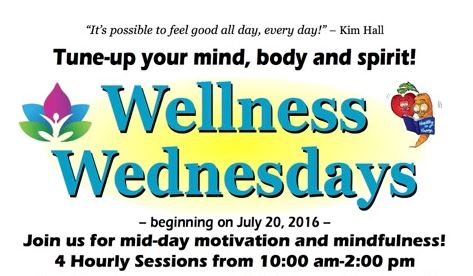 Look here for a calendar of upcoming high-level wellness class topics.
Enjoy! – Anne 🙂