Wonder Woman Wednesday returns tomorrow, noon to 5 pm at Kindred Spirit Center, including a continuing Soul of Money conversation from 1:15 pm to 2:30 pm.
Chapters 3 and 4 will lend their inspiration this time.  Scarcity: The Great Lie, and Sufficiency: The Surprising Truth.  Other resources are welcome.  Our objective is opening the flow of money energy–prosperity, wealth, abundance–into our lives with ease and joy and trust…which means we have to diffuse it–that energy of fear and scarcity–to use it.
Ever touched an electric fence?  That's the image (memory) that comes to mind.  There's an energetic current flowing through us when it comes to money.  It's a great image to play with.  How do we get comfortable with it?  And tap into it for what it's here for?
Here's how Wonder Woman Wednesdays Work:
Cover Charge is $10
RSVPs are recommended; by 8 pm the night before is helpful.  Phone, text, Facebook, or Contact form
Open Hours that I'm available and the Kindred Spirit Center space is available tomorrow are noon – 5 pm.  On Wednesday, September 20,  The Soul of Money conversation study group begins at 1:15 pm.
Good things happen when great women gather.
A lot of people have helped me get where I am today, and I can never repay them.  But I can pass it on.  Where do you want to go?  And how can I help you?  – Moira Kelly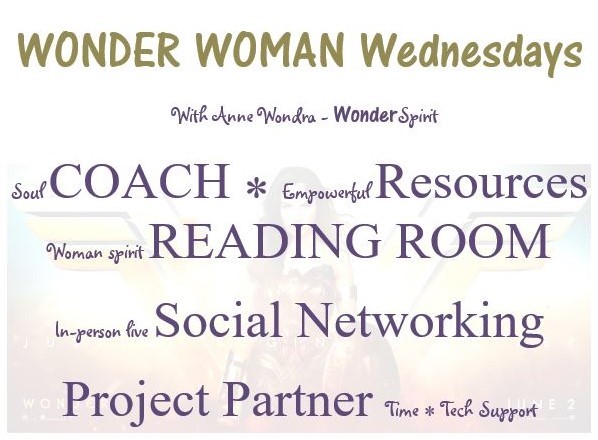 See you soon!  – Anne