02/12/ 2013. … date I got as far as a title, supposedly with inspiration and intention to write more. Alas, sidetracked…
08/17/ 2020. Today, perusing a drafts folder for inspiration…and smile.
Between then and now, a delightful recent read on this topic, came into my hands. Author: Donna Freitas. Love her wit and words. Enjoy!
Becoming a Goddess of Inner Poise: Spirituality for the Bridget Jones is All of Us.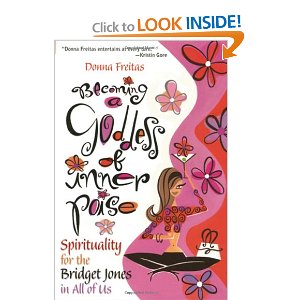 Playful and insightful at the same time, especially nuanced for Chic Lit and Chic-Centered sitcom fans. One of her early books, it turns outs.
More recent writings of this writer / author / professor / speaker –for young adults & middle grade and adult nonfiction–are definitely worth checking out. She has a lot to say, and offer.
2020 | 100 Years this Week
This week also marks 100 years; voice spirit words… ours–as modern women and goddesses of inner poise, one could say.
Be delightfully, confidently, outrageously, beautifully, happily, spiritedly YOU. – Anne