Quotes and Yoga
Reading again, this time Warrior Goddess Training came into my hands–twice. Warrior is not a word I use, so it sat on my shelf for quite a while. As I started into it, though, I found the author's definitions helpful. Maybe you will too.
… we bring our attention back to discovering who we are on the inside… we begin a sacred path … toward our innate, authentic, embodied power.

This is the path of the Warrior Goddess.

Warrior energy is a combination of focus, dedication, purpose, and determination. Consciously bringing these things together gives us our power. When we harness our warrior energy we are confident, clear, and bring 100 percent of ourselves to each action.

Goddess energy is our creative flow: unconditional love, pleasure, passion, and wisdom. When we claim our goddess energy we live in joyful self-acceptance and self-respect, and we listen to our sacred inner voice.

Heatherash Amara in Warrior Goddess Training
Warrior Goddess Training is for inner work, and also in the company of others. We take our own paths to living from our innate–in-born, natural–strengths, beauty, and authenticity; we are not comparing or judging others; our work is with ourselves. For each one, this is a holy, sacred path…a living heroine's journey, mindfullness.
Of course that warrior word brought yoga to mind also,
Yoga warrior poses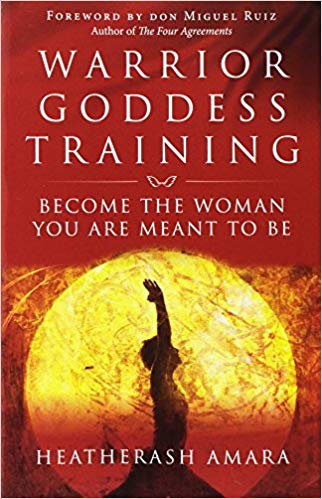 Those who've taken a yoga class, will recognize a Warrior I pose on Amara's Warrior Goddess Training cover. In yoga and in life, it's a process, one described well here:
The first thing you need to do to master any pose is let go of needing to get there. Yes you want to know where you are going, but not get stuck into forcing your body to be somewhere that it isn't ready to be. Instead begin to feel your body and use the appropriate props to help you hold the pose, breathe and enjoy where you are. Let your body build strength and then all of the sudden you will be there.

Janet Golownia, PurBalanceYogaTherapy Newsletter, 9-13-2019.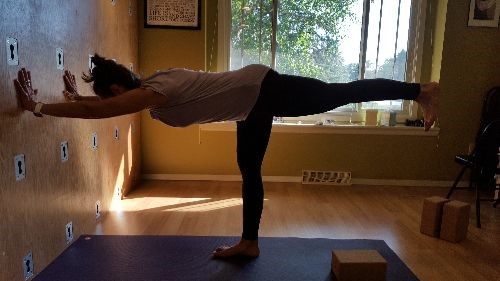 Goddess-Growing Books and Community
I've been on this goddess path for decades; and it continues… Evolving never stops. I've always found books–lots of them–that helped, though, and others who inspired me, guided me, offered spiritual support as I stepped outside containers that weren't evolving as I was…. my own holy, sacred path and heroine's journey.
We pick our filters, people, guides we trust. That's important, because information out there is overwhelming. And… I know we each find who we need and what we need in perfect timing. I have; and it's still happening, all the time.
You follow my writing, you know who I am. When you're on this path too, book a personal Goddess-Growing starter session.
Books, books, and more books ….
I'm hosting two goddess-growing BOOKS groups here on Wednesday, October 9, as well; a morning and evening Goddess-Growing Books. The center has 8 chairs, and it's a perfect place for sharing like this. See event details on Facebook…or calendar at WonderSpirit
I love these goddess-growing book groups…I want to host a couple more this fall. Please join me. Eight seats… are you in? …
This is goddess work we're up to, you and I… so keep on…

Neale Donal Walsch, The Journey (pronoun changed to the feminine)
Fall Equinox 2019. Blessings – Anne
P.S. For goddesses who prefer individual private soul sistering, heroine's journey confidant, and a restorying grow-your-greatness goddess, a membership might be perfect. Options, freedom, flexibility, choices…I always need those too…you'll notice an 'easy-release' button..
Goddess-Growing personal guide